Q

Can you ship internationally?

A. Yes, we can ship product anywhere in the world! Please send your inquiry, listing the product that you are interested to info@crescentmoonyoga.com along with your complete shipping address. We will get back to you immediately with several alternative shipping methods for you to choose from. Please note that there may be additional charges (duty, taxes) to get the product into your country that we are unaware of.
Q

How quickly will my order be shipped?

A. Expedited orders received by 3 p.m. Pacific Standard Time will be shipped out that day and all other orders within two days (pending credit card approval). Currently we do not ship product on the weekends.
Q

What size socks should I buy?

A. See sizing chart below: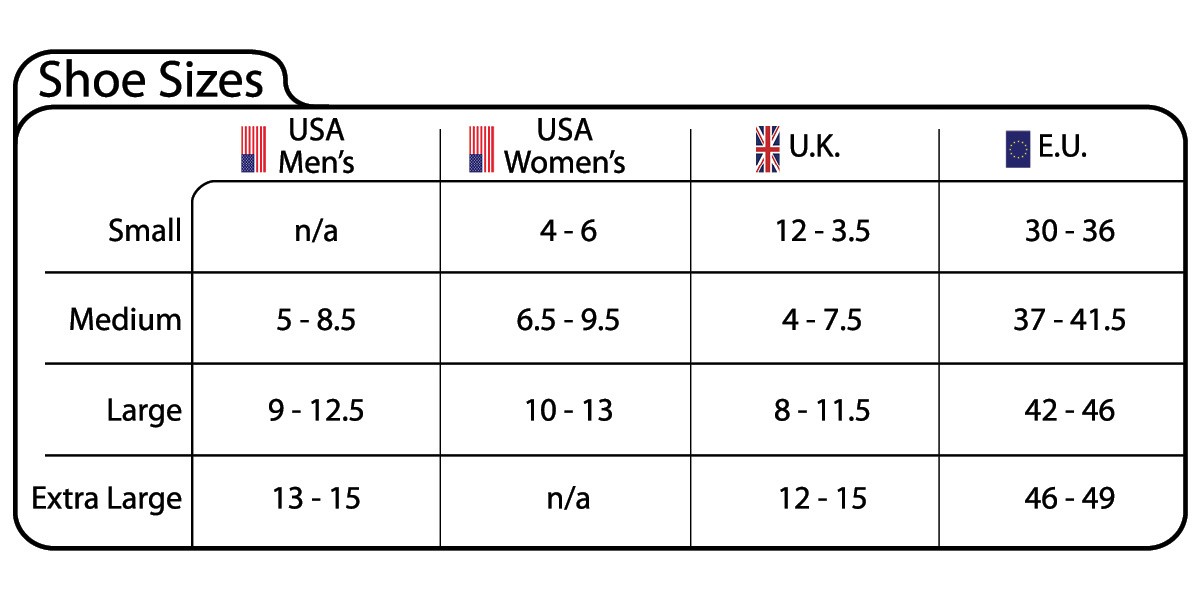 Q

Does Crescent Moon sell wholesale to retail establishments?

A. We do offer several programs especially designed for retailers, spas and certified instructors. Please contact us at (714) 399.1424 or email for more details.
Q

Are Crescent Moon products available in the UK?

A. Yes, we ship internationally from our California headquarters to most locations around the world. Please email info@crescentmoonyoga.com or call us at 1.714.399.1450 for more information.
Q

Are Crescent Moon products available in the Asia Pacific and Australian markets?

A. Yes, we ship internationally from our California headquarters to most locations around the world. Please email info@crescentmoonyoga.com or call us at 1.714.399.1450 for more information.
Q

How should I care for my cotton or linen mat bag?

A. Cotton and linen are natural materials and with minimal care they should last you many years. These bags are machine washable. We recommend a 'cold' wash with like colors. Since these are natural materials they may be slight shrinkage if you place in the dryer at the 'hot' setting, we recommend to use the 'cool' setting or to 'lay flat' for drying. These bags may be ironed when using the appropriate setting on your iron.
Q

What is the best way to care for my leather mat bag?

A. The Yoga/Pilates bag you have purchased or are contemplating purchasing is a big investment and it requires some tender loving care. Keeping them conditioned will protect your investment.

About Our Leather:
Please note that the leather used in our product is a by-product of farming and food production – these animals were not killed for their hides.

Leather is one of nature's most luxurious yet practical materials. One of the first things people do after looking at a leather product is touch it. The way leather feels to the touch is called the "hand-feel" or simply "the hand". As a general rule, the softer the hand, the better the leather quality.

There are many influencing factors that affect the quality of leather. Every hide has textural variations related to the animal's genetic makeup, environment and food supply. The resulting markings and wrinkles on a given hide should be considered part of the hides natural beauty and uniqueness.

Leather and Suede Care:
There are several water and stain repellents available for the treatment and preservation of your bag. These repellants are available at most convenience stores and shoe stores. Application of these treatments is recommended after purchase.

The proper care and attention to your leather bag can increase its life. Tips to increase the longevity of your bag are as follows:
- Stuff your bag with tissue paper when not in use to maintain its shape.
- Wipe away dust and dirt with a soft, water-dampened cloth.
- Leather needs to breathe. Never store your leather in a plastic bag or in an overly heated area as this may dry the skins. (Your bag may be shipped in a plastic bag for, but only for protection during shipping
- If your bag becomes wet, let it dry naturally. Avoid excessive exposure to heat and humidity.
- Wrinkles usually will work themselves out during use but if ironing is necessary cover the bag with heavy paper, (a paper grocery bag will do); set your iron on its lowest setting without steam and iron. Be sure that your bag is dry before ironing and that the iron is continually moved across the surface of the bag when pressing.
- Never apply adhesive materials to the bag, as this will damage the hide's finish.

Suede is a type of leather that is a little more 'high-maintenance'. Having a rough finish, it requires that you give it a bit more thought. However, if you find yourself with a spill, gently wipe off what you can while the spot is still wet. Take a suede brush and brush up the nap. Allow the spot to dry completely and take a stiff suede brush and LIGHTLY brush the spot to loosen and remove the food or mud. When the spot is removed, take a soft suede brush and brush the area in an up and down motion then a side to side to raise the nap again. You can and should brush a slightly larger area than the original stain so that it matches a bit better.

Professional Leather cleaning is recommended when needed for tough stains. Never use traditional dry cleaning methods to clean leather products as cleaning leather differs from fabric cleaning in several ways. Unlike fabric, leather has natural oils that protect and preserve the appearance and life of a bag. Removing these oils reduces the hide's suppleness. The chemicals used to clean leather frequently remove the natural oils as well as the undesired dirt. These oils must be restored by a professional leather cleaner.

By following these simple steps your bag should age gracefully while giving you many years of service!
Q

What is the best way to care for my SteadyGrip mat?

A. Please note that this mat is unlike any mat you have used before and will provide a unique, more cushioned feel than perhaps you are used to. With just minimal care your mat should last for several years of regular use.

Use & Care Instructions:
The SteadyGrip mat ships with a surface film that wears off after several sessions. You may want to clean your mat right away to improve the feel. As with most mats, there is a "conditioning" period during which the surface becomes tackier. To clean your mat and to shorten the conditioning period, use a damp cloth and mild household cleanser that does not contain ammonia or alcohol. Due to the natural oils from your body, you may need to wipe down your mat occasionally to keep it tacky.

To store your mat after use, turn your mat so the logo side is down and roll-up your mat. The logo-side should remain facing outward. Due to the added thickness of the SteadyGrip mat, creases may develop on the underside depending on how tightly you roll the mat. These creases will not affect the mat's performance or durability.
Q

What is Proposition 65?

A. California's Prop 65 requires that a "clear and reasonable warning" be provided by any Company that manufactures, produces, assembles, processes, handles, distributes, stores, sells, or otherwise transfers a consumer product within California which may contain a chemical known to the state of California that can cause cancer or reproductive harm.

We are fully committed to providing the highest quality, safest products for our customers. All of our products meet applicable federal safety and warning requirements, standards and regulations as enforced by the Consumer Product Safety Commission. California is the only state with the Prop 65 requirements.

Quality procedures are in place as part of our product safety initiative throughout our supply chain. We have specifically focused on testing for any lead or cadmium content as they are the primary concerns of Prop 65 in California. Our testing is designed to confirm that our materials meet the standards set by California Prop 65. However, because every product that ships to California cannot reasonably be tested for the 900+ chemicals listed, the only other option is to include a warning label, even though it may not be necessary.

The requirements are intended to be overly strict. For example, for a cancer-causing chemical, according to the state's Office of Environmental Health Hazard Assessment, "a person exposed to a chemical at the 'no significant risk level' for 70 years would not have more than a 'one in 100,000' chance of developing cancer as a result of that exposure." So, if there could be more than one case of cancer out of 100,000 people over a period of 70 years because of exposure to that amount of the substance, you have to include a warning.

Prop 65 is not limited to apparel. There is a wide range of categories. For example, Amazon.com outlines the required warnings for California consumers placed on tools, lead crystal glasses, ceramic tableware, jewelry, Tiffany lamps, headsets, electrical devices, beauty products, and even motor vehicles. Restaurants and coffee shops now post the same warning signage.